Undergraduate Research Program
The Summer Scholars Program enables selected undergraduates, generally sophomores and juniors, to conduct in-depth research or creative work with University faculty. Students in the Summer Scholars Program work on their projects full-time for ten weeks in the summer and continue to complete three credits' worth of research in the following academic year. Research and creative work is generally completed under the close supervision of a faculty member. The research done during the academic year may be part of the senior thesis for the Degree with Distinction or Honors Degree with Distinction. Each Scholar will receive a stipend of $4,000.
The application for Summer Scholars is now

CLOSED !

Application Note: The application system will ask you for the name, department, and email of the faculty member who has agreed to sponsor your research. Once you submit the application, the system will email the faculty member with a link and instructions to upload a letter of recommendation. You are not responsible for uploading this letter to your own application, but you are responsible for communicating with your faculty sponsor so that they expect the email and are aware of the deadline.
Application Materials Will Include:
Biographical information
Your GPA
A detailed description of the project you will be working on – including how many hours per week you plan to work over the summer
An unofficial copy of your transcript
A letter of recommendation from the faculty member who has agreed to sponsor your research

Your essay should include a description (maximum 500 words) of your proposed research project and an explanation (maximum 250 words) of why participating in undergraduate research is important to your career goals.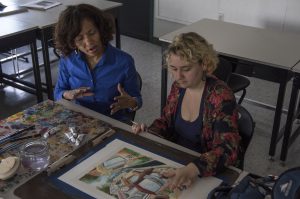 Attention Summer Scholar Applicant—Your Faculty Mentor's department (not necessarily your major) dictates which application (Arts/Humanities & Social Sciences or Science & Engineering) you should use to apply. Example- You are a Chemistry major but wish to research with a faculty member in Anthropology—correct application to use would be Arts/Humanities & Social Sciences. If you have any questions, please call our office (302)831-8995.